Sorting through business expenses is hard. We've been a family owned business for more than 25 years, so we understand the difficulty of consistently producing high quality products and services while keeping costs low. But did you know that you can cut your company's utility costs by adding tinted window film your building's windows?
Lower your costs
From computer servers to signage to bathroom lighting, businesses can rack up high energy costs. However, did you know that the U.S. Department of Energy estimates that nearly one-third of a building's cooling costs are simply to offset solar heat gain through windows that are not energy efficient? It's no surprise then that nearly 75% of existing windows in U.S. businesses are not energy efficient. You could cut back on your heating and cooling costs simply by investing in a strong window tinting solution.
Some solutions, such as blinds or curtains, may help reduce sun exposure – but they leave your working spaces dark. To offset the darkness, you have to invest in more lighting, lowering your savings.
The attractive thing about window tinting is that, unlike curtains or blinds, our window films won't leave your employees working in the dark or block their views of the outside environment. Your staff will still have the light necessary to see their work and you won't have to cut into your savings by investing in additional lighting.
Lower your exposure
Our tinted window films offer your business the privacy that you demand. We'll work with you to find a solution that meets your legal requirements and your budget. By protecting your computers, servers and equipment from sun damage, you'll also reduce the risk that your equipment can be damaged or hacked while undergoing repair.
Watch "Solar Gard® Armorcoat® Safety Film: School Intruder Test" on YouTube
https://www.youtube.com/watch?v=q2fGgR3252Irel=0 

We're proud of the way that we run our business. We want to work with you to improve your bottom line. Give us a call today.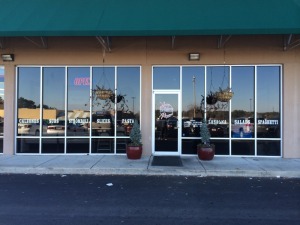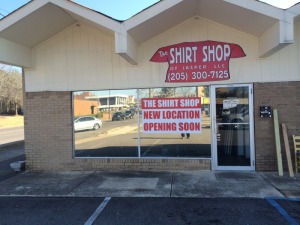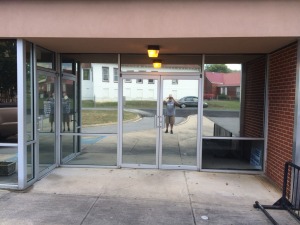 The Front of DCH Regional Medical Center, Tuscaloosa Alabama:
20 percent Silver Bronze Window Tinting on East Side Baptist Church, Jasper Alabama: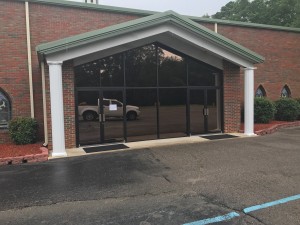 Commercial Window Tinting Jasper Alabama on the Control Rooms at the Wood Plant to REDUCE the HEAT: